At Slave Lake Dental, our dentists provide cosmetic dental services designed to improve the overall appearance of your teeth and gums.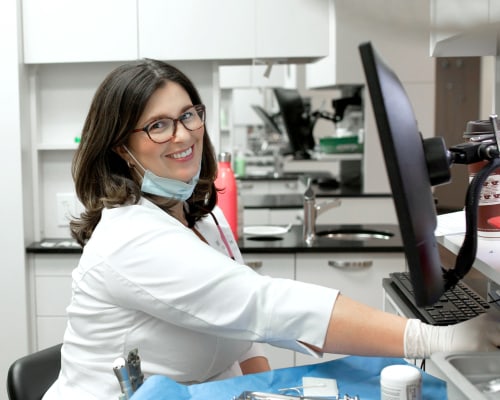 What is Cosmetic Dental Care?
Cosmetic dental treatments are designed to make aesthetic changes to your teeth and gums. 
Are your teeth misaligned, worn, broken or discoloured? Perhaps they have gaps between them. Our dentists at Slave Lake Dental offer an at-home whitening solution to help improve their colour and symmetry. 
For many patients, these treatments can make a significant impact when it comes to smiling confidently once again.
Take-Home Teeth Whitening
One way of safely and effectively whitening your teeth is to whiten them in the comfort and convenience of your home with the Spa Dent Take Home Whitening Kit. Over five days, your teeth can be up to eight shades lighter with 20-minute sessions. With this take-home treatment, you can enjoy a lighter, brighter smile.
Veneers & Lumineers
Veneers are thin pieces of porcelain applied to the front of your teeth to change their colour or shape. They have cosmetic benefits for teeth with uneven surfaces and can make teeth that are discoloured, oddly shaped, crooked or discoloured look even and naturally white. Lumineers® are thin veneers that can often be placed with little to no removal of the natural tooth structure.
Dental Bonding
During a dental bonding procedure, your dentist bonds tooth-coloured composite resin to decayed, damaged or discoloured teeth to give you a more even, natural-looking smile. The composite resin that best matches your natural teeth will be chosen so it blends in.
Full-Mouth Restoration
Some patients will need a comprehensive treatment plan consisting of a variety of dental procedures available at Slave Lake Dental. This plan is customized for your and allows us to perform all the dental procedures you require in fewer appointments.